Asmodelle's
Music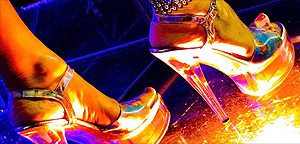 Welcome to Asmodelle's EDM (electronic dance music) website. Asmodelle is a former dancer turned Electronic music artist. While living in Japan in the early 90s Asmodelle got involved in Electronic music and is now a dedicated electronic composer with 7 CD releases. She has composed for film soundtracks, art installations, chill out events and dance parties. Many of her tracks vary in style and feel, and varying between: Dance, Electronica, Chillout to Ambient or even Experimental.
Asmodelle lives in the Central Coast of New South Wales, in Australia and is actively involved in the music scene within Australia and overseas. Many websites feature her photos and also play teasers of her music – she is very well known, especially on the world wide web. Asmodelle's latest album "Grooveatropolis" – featured on this page – is available for immediate download from CDBaby.
Asmodelle was winner of the "Australian Independent Music Video Awards," for a winner category: "Best Instrumental Music Video – Australia 2012," for the track: "Hybrid" from the Asmelectrix album. Asmodelle is a significant EDM composer with 7 albums on the market and the winner of many awards.
Winner of

the AIMVA Best Independent Music Video